I'm not gonna just spam a whole bunch of "favorite" topics, but this strong whim to talk about video game monkeys must be satiated. There's so many interesting designs, an endless bananaza of concepts.
#1:
Coconuts
(Sonic series)
This guy is the most iconic video game monkey to me. Maybe it's because I played the game and watched the show so much as a kid, but his mischievous expression and simple design are timeless. Despite being kinda basic he's got some neat little quirks about him, like throwing coconuts instead of banana peels or something else more in line with stereotypically-monkey
s***
stuff.
#2:
Primeape
(Pokemon series)
I mostly like Primeape because of the Pokemon anime. Though few, its interactions with Ash were great, kinda reminds me of Charizard in a way. Its pre-evolution has a pretty cute design, too. It's just too bad he's a pretty crap Pokemon in the games, competitively at least (I usually like adding him to my team in casual playthroughs though).
#3:
Amigo
(Samba de Amigo)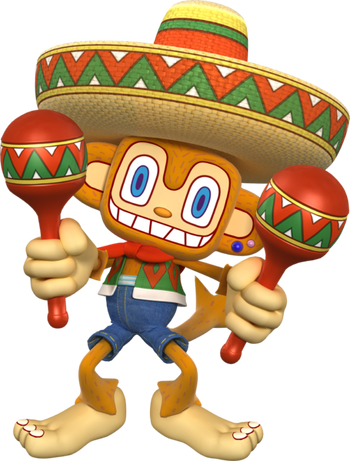 My experience with Amigo is pretty limited, I think I played a demo when I was a kid but more recently (but still years ago now) played through Sonic Racing Transformed with him. He's a rather wacky little character, I like his Mexican-style design and almost creepy expression. I don't usually like rhythm games but I'd be interested in a modern remake, sequel, or spinoff.
Honorable mentions to Eartbound's Bubble Monkey, and SonSon's titular character.
Let the monkeys out of the barrel and list a few.