This section has been quiet so here's this.

John Titor appeared on the Internet back in November 2, 2000
. He claimed to be a time traveler from the year 2036 who needed to fetch an IBM 5100 because of its hidden function to debug and emulate code between various programming languages. He was a soldier who was tasked with obtaining necessary equipment from the past. He went back to 1975 to get an IBM 5100 and then stopped by 2000 for "personal reasons".
He claimed that time travel would be achieved by CERN around 2034 by the creation of "microsingularities" - or mini black holes, alluding to the Large Hadron Collider. He explained time travel as being able to jump into parallel timelines, thus no paradoxes would occur. Our timeline may not see all his predictions because, as he claimed, differences between timelines can range from 1% - 2.5%
He stopped posting in March 2001 and was never heard from again.

Predictions that never came to be:
Claimed that the United States would see a second Civil War in 2004
Claimed that 2015 would see a nuclear war
Claimed that 2008 Olympics would be cancelled (However, in our "timeline" there was a vague possibility of that happening due to the Tibetan riots)
Claimed that mad cow disease would become a rampant pandemic

Predictions that turned out to be true:
Said that there were no weapons of mass destruction in Iraq (This was before 9/11 even happened)
Alluded to the Columbia disaster of 2003 (though not by name, referred to the overheating issue that made the shuttle crash - so half a point?)
Claimed that China was close to putting a man into orbit (They did so in 2003)
Knew about hidden functions of the IBM 5100. No consumer at the time knew about its hidden functions. IBM kept it a secret fearing that competitors would abuse its ability to debug and emulate programming languages. Titor claimed he needed one in the future because of the 2038 UNIX timeout - which is a real thing.
Titor's explanation of how time travel works first contradicted Hawking's interpretation of Hawking's Radiation and the nature of black holes. But after Titor vanished, Hawking changed his theories in 2004, which became more in line with Titor's explanation.
Lastly, he posted schematics of his time travel device, which he called a
C204 Gravity Distortion Time Displacement Unit
He posted color pictures of said device - which reminds me of that ghost trap thing in Ghostbusters: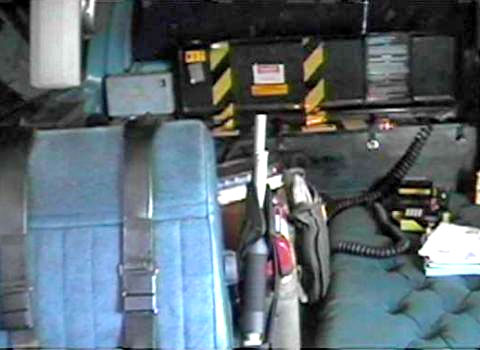 Other links:

John Titor's original post explaining time travel
John Titor and the IBM 5100
John Titor Predictions

Most people believe he was simply a well-informed individual, either a computer science expert or IBM employee, who went out of his way for an elaborate hoax. Others, of course, believe there's credence to his tale.
There also seems to be some confusion as to whether John Titor was the same unknown self-proclaimed time traveler who faxed Art Bell on his radio show back in 1998. Art Bell was a broadcaster who hosted a radio show late at night about paranormal events and conspiracy theories. These Internet posts by John Titor in 2000 - 2001 were on an Art Bell forum.