I watched
The Mummy
(1999) back around Halloween, and I always find myself feeling sorry for the one American cowboy with the glasses who's Imhotep's first victim.
Like, okay, yeah, he was part of a group of rowdy a holes you were supposed to feel contempt for, but when he got what was coming to him I couldn't help but see him as a sensitive, helpless little man. I mean, look at him.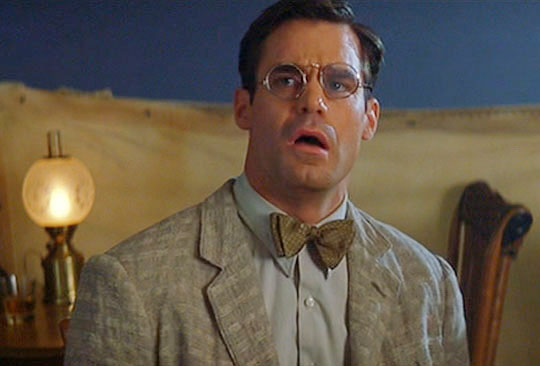 and then this happens to him:
Spoiler.
I really didn't want to see him die but knew he had to. He gets his tongue and eyes ripped out and for the rest of his time in the movie he's spent moaning and accidentally tipping stuff over and crying.
Another really minor character death (he wasn't even a character, just a passerby) that I remember feeling sad for ever since I was a kid was this random guy in
The Lost World: Jurassic Park.
The T-Rex singles him out and we spend one too many seconds watching him run around until he gets eaten, then hear him give out death cries and grunts as he's chewed up and eaten. That guy had a family.
(Actually, fun fact, that guy was David Koepp, the screenwriter. I guess he was just like "HEY I WANNA BE EATEN THATD BE FUN")
You know, it was different in the first
Jurassic Park
. Muldoon the hunter died an appropriate death because he, well, was a hunter. The lawyer died because **** lawyers. The traitor Dennis was another guy you were glad to see gone. Samuel L. Jackson died but you didn't SEE him die. His arm was just found. It took me a while to realize that in
The Lost World: Jurassic Park
a heckuva lot of poor innocent people died and when I saw that as a kid it really bothered me, yet as I grew up I knew it was more "realistic" I guess - death doesn't discriminate.
Lastly, and much more recently, I thought THIS death scene was totally unnecessary and cringeworthy to watch because it drags on for longer than I think it needs to for such a minor character: