I've been into cosplay for a long time, starting in middle school, but I used to mostly just sew the clothes and then wear them and didn't overly concern myself with quality.
Then I made close friends with an extremely meticulous, detail-oriented cosplay fanatic with ridiculously high standards and, essentially, everything changed when the fire nation attacked.
So now I kind of take it pretty seriously and spend almost all of my non-rent non-groceries money on fabrics, trim, patterns, wigs, makeup, etc, and it's made a huge difference. I just got back from a 4-day anime convention where me and aforementioned friend wore two sets of costumes that I'm super proud of.
The first are military-inspired designs of Homestuck characters by
mookie
that are sort of punk and sort of asian street fashion and pretty awesome.
The original designs look like this:
[plus a sketch of a dude character who another friend cosplayed, I made his coat, top, and tie as well]
we cosplayed these same designs last year, too, but the coats hung a little stiffly because I used too tough of an interfacing, and basically it was a learning experience and I spent this last year re-sewing my entire coat and fixing the bottom of my friend's. This year I have nothing to complain about. We look hot.
For comparison, last year:
and this year: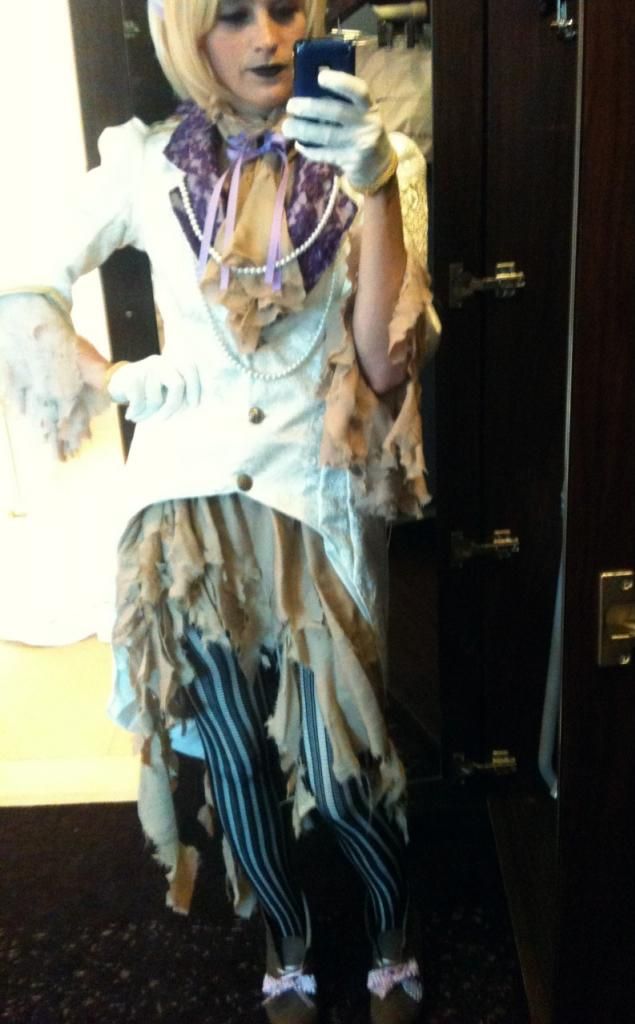 in addition to fixing how the coats hang, I changed the cut of my coat (my friend's idea to make it look more flattering and accentuate my hips) and added the fancy lace to her cravat pictured here. i also tattered my sleeves to make them match my bottom skirt, and made myself gloves to which I added trim.
the dude's costume looks the same so no need to re-post that lmao
---
the other costumes we did for this convention are Sakura and Syaoran from Tsubasa Reservoir Chronicle, but rather than doing a specific outfit my friend actually designed original outfits inspired by a lot of different designs by the creators. I can only find one picture of us so far, and although I'd fix some things, for a version 1.0 of these costumes, I think they look great:
I'm pretty proud of this wig too because I actually sewed part of the wig to itself to give it that little anime loopie thing at the top. My friend did the rest of the cutting and styling, though, and in return I did the sewing.
Every article of clothing here except the petticoat and the shoes were sewn :{DD
[[I also made a Saison Marguerite cosplay from The Most Popular Girls in School, but due to my friend's Rachel Tice being incomplete as well as me being creepily mistaken for a prostitute walking back to the car, I didn't wear that one enough to get any pictures]]
This convention was quite the experience too in that it was my first ever time wearing contacts. It's hard to see because these pics aren't quite high-quality enough, but my eyes are purple in the Rose (militarystuck) costume and green in Sakura. took me like an hour to put in though, damn, my eyes are not used to that ****