MOAR.
Man, this thread is almost ten years old, isn't it? I've seen a lot of people throwing together Decade in Review's for their artwork so I thought I'd do the same. I basically just chose my personal favorite drawing from each year. Hopefully it doesn't break anyone's computer.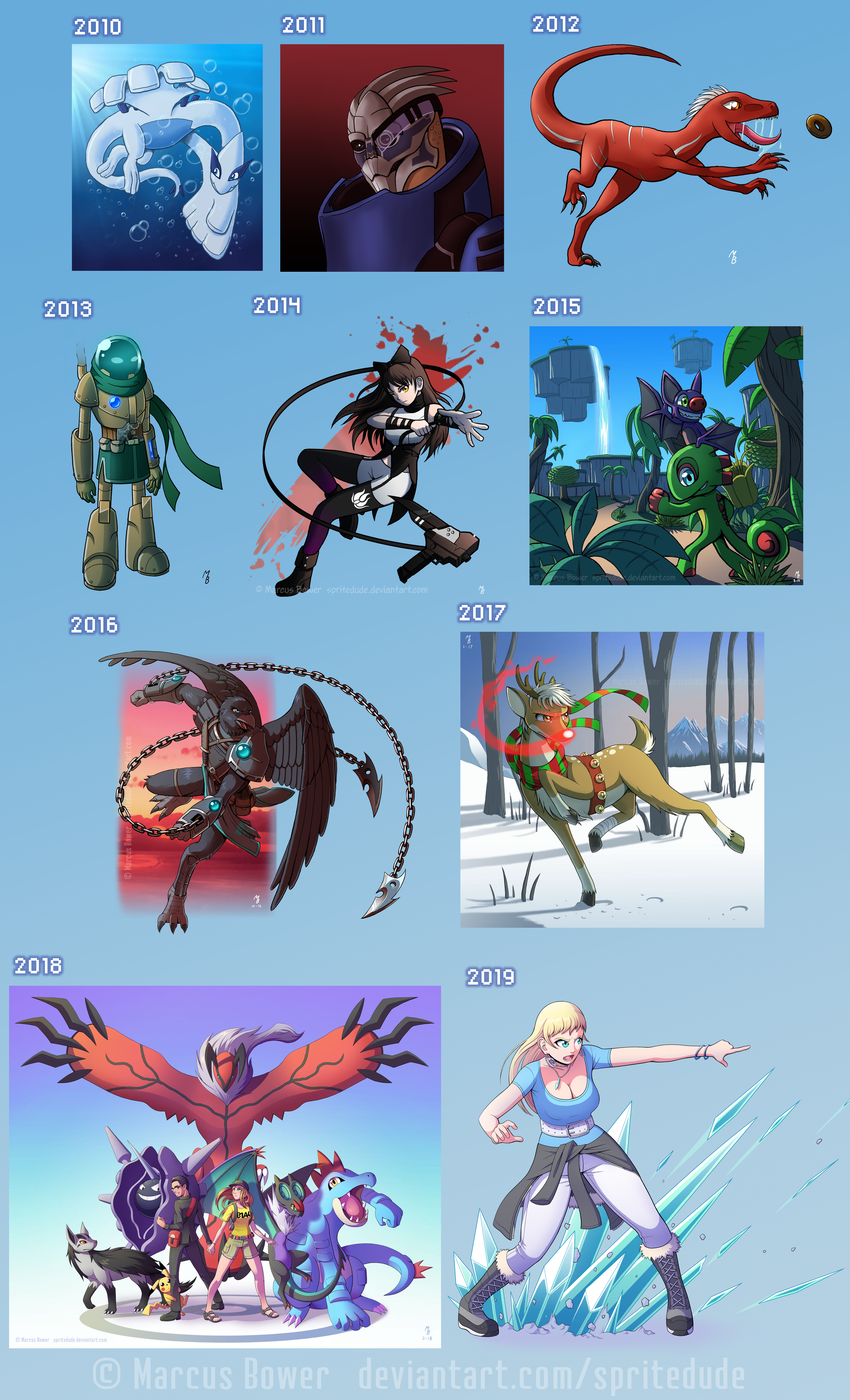 Click on the years to see the full size image.
2010:
This one was kind of a milestone for me. I shared it with a Pokemon group on DeviantArt, and ended up getting more than 40 favorites. Before then I was getting like, single digits for every drawing. It kinda showed me that getting my art "out there" required a bit more effort than just posting it and hoping people find it. Sometimes you gotta utilize social networks and niches.
2011:
Just Garrus from Mass Effect. Calibrations.
2012:
My first digital drawing of Donut Raptor. A character I came up with while goofing around in art class in high school.
2013:
This was when I was coming up with concepts for a sci-fi setting for a comic idea that hasn't really gone anywhere since. A lot of people seemed to like this design. It's supposed to be a jellyfish/amoeba type of alien that inhabits a mechanical steampunk-ish exosuit.
2014:
I think I was finally starting to get the hang of lighting and colors around the time I drew this. I also submitted it to possibly be featured as fan art during the credits in episodes of RWBY. They didn't pick it.
2015:
I didn't do a whole lot in 2015 for some reason. I think I was going through kind of an art depression. I don't even particularly care for this one but it did get me a fair bit of karma on the Yooka-Laylee subreddit. It's still pretty high on the top All Time, I think.
2016:
A friend's DnD character. He's a birb.
2017:
Still one of my personal favorite drawings. I dunno, everything about it just encapsulates my style perfectly.
2018:
A commission I did for a friend. Still probably the most ambitious drawing I've done. It took like an entire month. Worth it though, I love how the shading and cast shadows came out.
2019:
Jewel, a character from my comic The Challengers. Finally trying to get that going soon. Not the "hopefully I work on this eventually" attitude I've had for the past decade, I mean like actually for real working on it.
Time will tell what the next decade will have in store, I suppose. Anyway here's a few newer things:
So I've been taking some commissions from people on DeviantArt, and uh...
it's literally all been furries.
Not that I have a problem with that or anything, but like... I dunno. ANYWAY. Here's a commission I did of a Viking Gryphon character.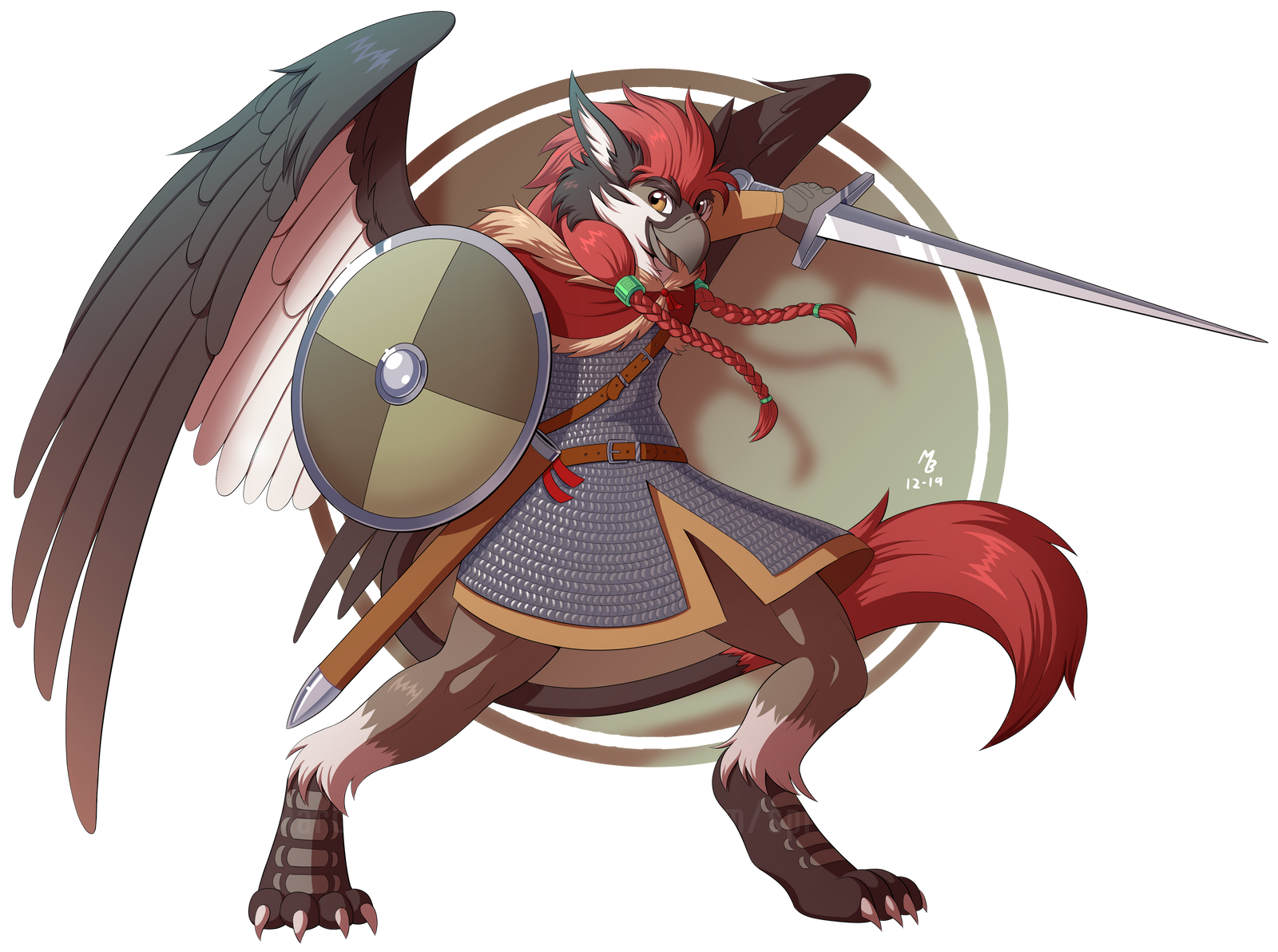 I need to find out who invented chain mail and... think angry thoughts about them.
Here's some traditional art for once. I haven't used watercolors since I was like, 10, but I thought I'd give them a shot. Turns out they're actually a pretty dang good fit for my style, and compared to the Copic markers I use they're way quicker and more cost effective. I remember one time I drew something on a 11x17 bristol board and had to painstakingly color the entire board in with markers. That would've taken like, minutes with watercolors. So anyways I thought I'd draw Donut Raptor to test them out.
Last one: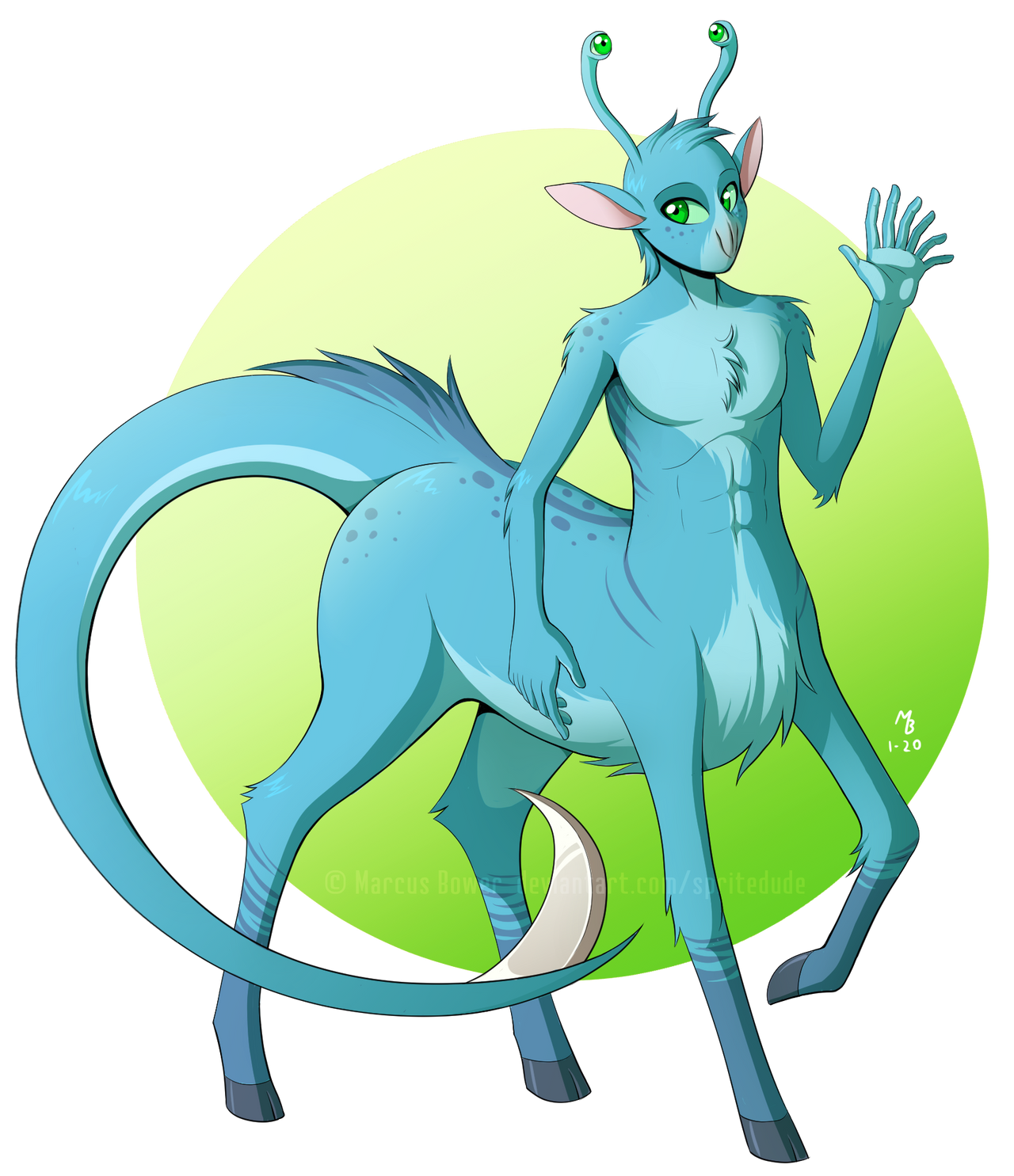 Animorphs was one of my favorite book series as a kid. I never actually finished it so I've been reading all the books again. I'm a sucker for adorkable characters so Ax is easily my favorite.
(For those who aren't familiar with the series, Ax is member of the Andalites, a blue centaur-ish alien race who have the ability to morph into other animals/species, and are the ones who gave the Animorphs their powers)
So anyways yeah I drew Ax from Animorphs.