MOAR STUFF.
Still trying to do expression sheets of all the main characters in my comic.
Two down, four to go. If you're unfamiliar with my characters, this is Hector, a hotheaded young engineer who uses a mechanical suit and gadgets and stuff to fight.
Believe it or not, this is the first time I've drawn Hector in his full suit. I've only ever had a vague idea of what it'd look like, I never got around to actually designing it. I went with a dieselpunk-ish exoskeleton look, as opposed to anything sleek or futuristic. Like something a kid would build in his garage out of spare parts.
What? You don't believe a kid could build a high-tech mech suit like that? Well... maybe you should start living in a superhero sci-fi/fantasy world, kids there do stuff like that all the time.
Alright, so remember that purple wizard dude of mine?
Okay, so, I have this character named
Melmazar
. He's a wizard in black and purple robes with wispy purple magic, and was driven insane by an artifact called the Lunar Medallion, which he wears around his neck. He's one of my oldest characters, I came up with him in middle school, but I decided he could fit as a villain in my comic.
And then a few years ago my friends got me to start playing League of Legends. Turns out, there's
a wizard character
in the game with purple hooded robes, glowy eyes, who uses wispy purple magic, and was driven insane by "the night's chilling embrace". Even more astounding... his name is Malzahar. I was baffled. I came up with Melmazar years before LoL even came out, but they somehow made a character nearly identical to mine.
Instead of making a fuss about it or scrapping Melmazar completely, I just tried to make him different, so I de-aged him, a lot. I've always had the idea of a twisted child character who can't quite comprehend the power he wields or the consequences of his actions, like he just sees it as acting out an imaginary persona of his. I figured maybe I'd just combine that idea with one of my existing characters, and Melmazar seemed to be a good fit.
I probably should come up with a new name for him too, as much as it pains me.
Let's see, what else...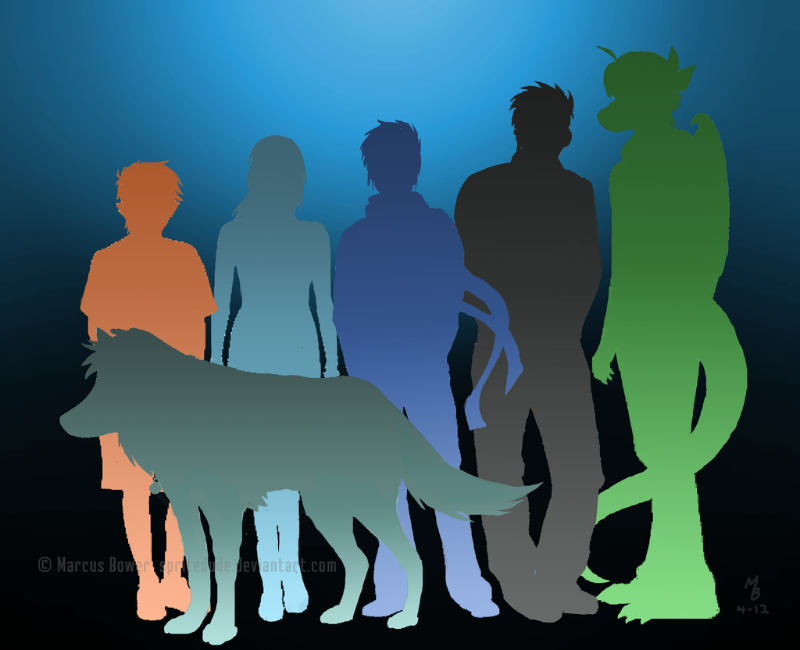 Here's a height chart thingy I made for the six main characters. I just made it for my own reference, but it came out kinda cooler than I expected.
Oh and then I colored that creepy t͘hi̱̱̦̖̺̖̟n҉̫͈̜g҉͈̰̩̟̭̥̣ ̰̠͖̭̗͓̳Ị̷͎ d̖͓͇͘re͚͎͖w͈̖͍̞͚̞͉ i̜̟̲̳̲͖̘̥n̩̯͝ͅ ͎̪͕̲̩̬̝̩͠F҉̭̻͚̠̞̣̥̪l̢̛̜̭̙̤̙͖̕o͏̛̰̲̤̥̲̗͍͉c̸̦̩̤̻͇̱͓͡k̻̩̤͍̗̳̲̼͝M̷͉͇̙o͎̭̗̙̲̝͜ḑ͙̺̱̖̟̕ w̨̯̬̙ͤ̉̆ͭ̇ͨͫ̏i̶̠̟̺͔̠̟͕̯͑̿ͯ̔̒ͮͅţ̬̖̣̦ͥ͘h̞̪̫͚̜̜̫ͪ̍͂ͪ̈́̋ͫ́ ̸̴͔̬̭͙͓̳̥ͭ̿̈̆ͪ̉̐͢A̖͖̪̳̰̫̩̿̊̆͛̏̊̚I̓͐̾̋͢҉̨͙͎̹̥͈͖͎ͅ
y͉̅ͦ̀̓͆o̙̻̪̣͚͉͓ͤ͑̌u͚̟͎̺͇͚̾͌̀ ̴͙̥̪̦͉̟̈̂͋w̷̯̩̥̥͚͛ͥī̗̯̀ͯļ̴̪̜̻̰͎͓̮̫̐́̉͌̊̍̚ļ̭͑͗ ̨̥̟̻̻̩̼̗̯͛̽ͪ̽̐̎̉̚b̨͈̗̻̬̳͊͒̌̉̔ͮ͞ȇ̵͓̼̬̮ͮ͋̒͊̑ͩ͊͌ ̟ͬ͛͝ȃ̵̠̻̼͋̕ṣ̡̳̍̀̎͗͜s̼̜̩̣̬̝̐͂̈ͧ̄̚͠i͖͍̘̬͋̄̏̑͆̿͘m̢̳̩̼̻͇ͬ̓̏i̭͔̞̣͔̜̦ͦͦ̄̓̌̀̈͞l̑͂ͩ̓҉̦̹̺̼āͭͧ̓͛̅̄̍͏̧̜̞̯̪̦̗̝t̖̺͕̓̆̌͗͐́̕͘ȇ̖̪̙̉̉̎̀̂ͫ̍d̶͈̳͔͚̟͚͔̼̔̄̇͝