Maester Seymour Guado
Everyone knows in the end the spot of villian in Final Fantasy Dissidia came down to Jecht, which in the end, many people claim that Jecht was picked because of Seymour was the villain then Yuna would have to be the hero (which I think is a cop out, Tidus hated Seymour as well and it would have been a fine match up). Honestly I think Seymour would have been a good addition (not that I mind Jecht, he is the only pure melee villain in the game) and I certainly liked the idea of Tidus's more modern asain influenced outfit and attitude meshing with Seymour's more ornate and ceremonial garb as well as his proper way of speaking.
As for his moves and such, many of his moves can be found just by battling him so many times in the agme, here's what I found, and what I think they'd do.
Brave Attacks:
Ground/Aerial: Blizzaga: I know Seymour can cast all four elements, but decided to focus on water and ice, since it seems more tied in with Macalania Temple with its ice goddess and frozen lake. Blizzaga ground version will cause an explosion of ice against the ground. Able to be chained with Wateraga or a second Blizzaga if quick enough.
Aerial: Wateraga: Same as Blizzaga but an aerial move, able to attack in the air, able to be chained back with Blizzaga or Wateraga again if quick enough (much like Doublecast or even Omnis's four-way casting).
Aerial: Desperado: Brave attack based on the dispelling move used while in Natus's form, it is an aerial cased brave attack with a close to medium distance.
Ground/Aerial: Lance of Atrophy: Strongest of Seymour's brave attacks, it has a rather short range but can hit for a nice chunk of brave loss, however it cannot be chained.
HP Attacks:
Ground: Cross Cleave: HP damage move, pretty close range.
Ground/Aerial: Total Annihilation: Seymour's charge up HP attack, the longer he charges the more projectiles end up being launched, and the more damage that ends up being done. Can be short charged for smaller damage just as the other ones can.
Aerial: Banish: Based around Seymour's abiity to simply wave Aeon's away from a one-hit kill, it has a good distance but can be avoided.
Ground/Aerial: Requiem: Seymour's original overdrive when used for a short time as a player character, does HP damage from a distance, explodes like a spell so it can be fairly accurate.
ExMode: Seymour Natus: I know this was technically Seymour's first form, but it is his most human shaped, which makes it quite an obvious choice, and has more detail and more of an ominous feel to it than his Omnis form. True his Flux form may seem a stronger choice, but in the end it would have to be heavily edited anyway to be more human shape, when Natus was already human shaped (plus that claw is cool). Obviously just like in the game, while in Natus mode Seymour gains the ability to levitate and fly.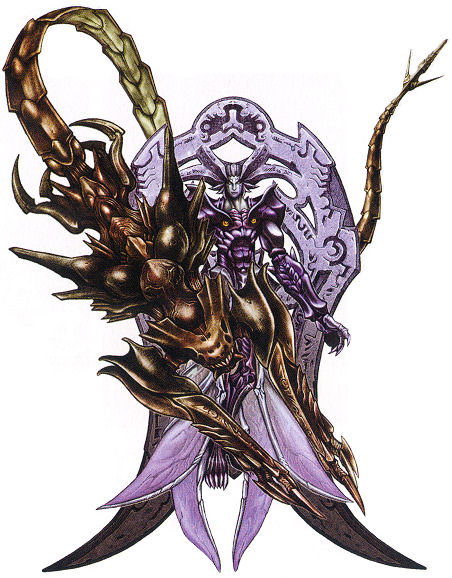 ExMode Break Attack:
Ground/Aerial: Shattering Claw: Like some of the villains, while in ExMode Seymour will get access to an instant break move, shattering claw, which actually did about the same thing in the game. Its got a good close to mid range, and has a shorter cast time than some of the others, but due to the fact it does have that closer range you have to be close to the enemy to use it. It effectually breaks the foe on a successful strike, using that massive clas to do the damage.
ExBurst: Overdrive: "Your hope ends here! And your meaningless existence with it!" Seymour will charge his ExBurst much like Lulu did in X, my rotating the joystick you'd charge up his meter until he maxes out and does one of two moves.
Failed ExBurst: Requiem: "Sorrow will prevail." Just a more powerful and flashy version of Seymour's normal overdrive, Requiem.
Successful ExBurst: Grand Summon: "Death awaits you." Seymour will use his Grand Summon, the same Overdrive Yuna used in X, Seymour will use it to summon the Dark Aeon, Anima. It will arrive and instantly begin its own Overdrive, Oblivion by casting the world into the sweeping red hell, before brutally pounding the enemy, doing straight Brave damage before ending with its signature explosion, doing heavy HP damage.
One-on-One quotes (leaving out Jecht since Seymour would be taking his place):
Warrior of Light: "If you're offering your life, I will have to take it."
Firion: "Your dream ends here!"
Onion Knight: "Pitiful, trembling at unseen enemies."
Cecil Harvey: "So you, too, seek freedom from this painful life?"
Bartz Klauser: "Pitiful mortal."
Terra Branford: "I will take from you your strength, your life."
Cloud Strife: "All the pain of your life will be gently swept away . . ."
Squall Leonhart: "Your chased by your fears, never knowing rest."
Zidane Tribal: "Unpleasant . . ."
Tidus: "Now is your time to die. Prepare yourself, son of Jecht."
Shantotto: "I will give you your death. You seem to want it so."
Garland: "Suffering and sorrow . . . caught in a spiral of death."
The Emperor: "You have great power, but you fear losing it."
Cloud of Darkness: "Rest in peace, in eternal darkness!"
Golbez: "There is no salvation for the damned!"
Exdeath: "Let darkness take you!"
Kefka Palazzo: "Spending your days . . . scheming petty schemes."
Sephiroth: "I will save you."
Ultimecia: "I have all the time in the world."
Kuja: "Death is a sweet slumber."
Seymour Guado: "You would oppose me as well? So be it."
Gabranth: "Very well. I will end your suffering."
Chaos: "I vow to carry on your legacy . . ."
Special Weapons: (based on the extra enemies that become part of Seymour when he becomes Natus, Flux, and Omnis respectfully)
First: Mortibody
Second: Mortiorchis
Ultimate: Mortiphasms